Customer Reviews
Write a Review
Ask a Question
07/24/2020
Ryan R.
United States
Superb Quality
One of the best quality prayer rugs I have ever own. Super fast shipping. Very satisfied with the purchase.
07/24/2020
Hussam D.
United States
Beautiful rug
Very nice, soft, and thick. I love it so much I bought another one.
07/20/2020
Mahdi S.
United States
Masha Allah!!! ABSOLUTELY ECSTATIC!!!!!!!
Salam Alaikum, Modefa Brothers & Sisters! I have just purchased the "Double Plush Wide Extra Large Prayer Rug - Paisley Gold" and the "99 count beige oval wooden tasbih" and I would like to inform everyone that I do not remember being this ECSTATICALLY SATISFIED & HAPPY about making a purchase in such an EXCEPTIONALLY SUPERIOR QUALITY Shop!!!!!!! Very happy with the whole process, but particularly IMMENSELY POSITIVELY ASTONISHED at the quality of my tasbih and ESPECIALLY my Prayer Rug!!!!!!!! I am BEYOND AMAZED at its quality and I CANNOT BELIEVE AT Such a LOW Price for SUCH AN AMAZINGLY HIGH QUALITY Rug!!! Masha Allah!!! Subhana Allah!!! I welcome everyone to purchase from Modefa as the owners must be truly Blessed by Subhana Allah to provide us with such SUPERIOR QUALITY PRODUCTS at such a Low price ti help us Better Worship our Creator!!! I am actually getting another tasbih & Prayer rug this instant!!! Allah y jazikum bil Khair, Modefa Family! May Subhana Allah watch over you and all of your Loved Ones ALWAYS Insha Allah!!! Mahdi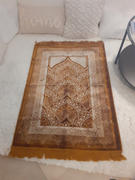 06/30/2020
Martha P.
United States
Double plush rug
This rug is gorgeous! The gold design is so beautiful. I gifted it to my son and he loves it!!
06/12/2020
Risa T.
United States